Discover more from The Slotting Fee
Americans spend $5.5 trillion a year at retail stores, but the story behind what's on store shelves is hardly ever told. The Slotting Fee covers the business, politics, and technology behind the things we buy every day.
After two years of price increases, Kraft Heinz management says it's done raising prices.
Thanks to private label, the manufacturer of ketchup and mac-and-cheese has confirmed that it will not be raising prices any further in 2023.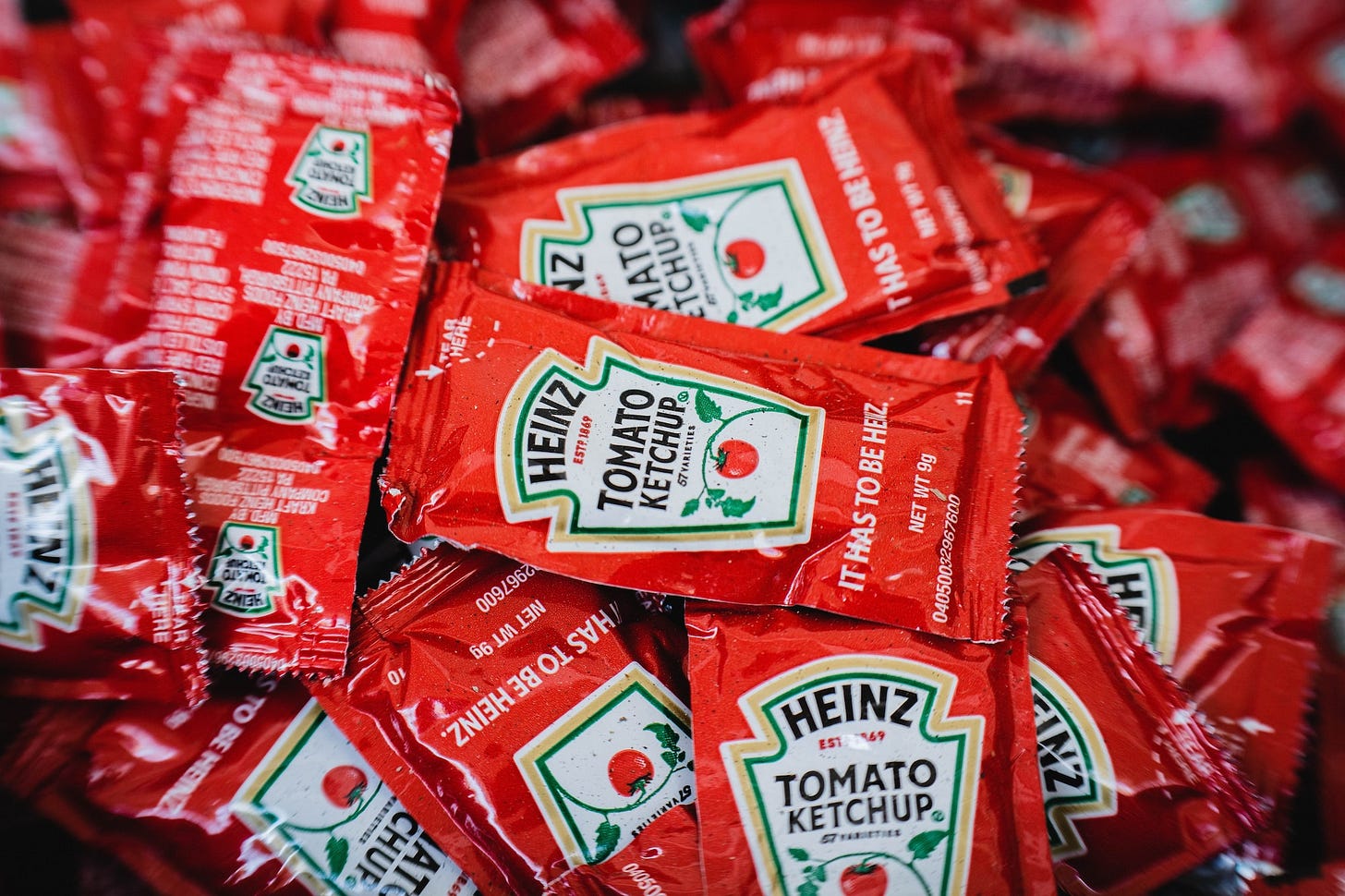 What to know
Kraft-Heinz faced tremendous inflation over the last two years. Management largely passed on rising input costs to consumers through increased prices. Kraft-Heinz wasn't alone. According to Datsembly, which aggregates and tracks retail shelf pricing through its Grocery Price Index, the shelf price of condiments increased by 26% since the pandemic's start.
But unlike Mondelez, which competes in categories with limited private label or retailer competition, Kraft-Heinz's keystone brands often face intense pressure from low-cost alternatives.
Walmart, America's largest grocer, carries:
Heinz Ketchup - 11 cents/oz

Great Value (private label) – 4.7 cents/oz

Hunts (Conagra) – 7 cents/oz
Throughout 2022 Kraft-Heinz was able to hold its share, losing just ten basis points for the fourth quarter.
However, Management must have looked at the elasticities and decided, "well, it was fun while it lasted."
"From a pricing perspective, 99% of all needed pricing has already been announced for 2023," CEO Miguel Patricio told investors. "As we look to the rest of the year, we have no current plan to announce new pricing in North America, Europe, Latin America and most of Asia."
Price Increases helped Kraft-Heinz towards a fantastic 2022.
Kraft Heinz posted total net sales of $26.4B for the year. Organic net sales (takes out transactions and currency impacts) increased by 9.8%.

Price increases were responsible for the year's growth, driving revenue up 15.2%. Decreased unit sales amount to a 3.4% volume decline.

"2022 was an incredible year for Kraft Heinz, delivering strong results and ending the fourth quarter with solid momentum that positions us well for 2023," said Kraft Heinz CEO Miguel Patricio.
Price increases impact income levels differently.
Overall North American volume declined by 5% in Q4 of 2022. It increased by 13% for consumers earning over $100,000 a year.
Kraft-Heinz is getting more and more efficient at trade promotion.
In 2022, the company tripled its ROI on promotional activities compared to 2019.

It accomplished this by promoting less. In Q4 of 2019, 34% of sales were on promotion. In 2022, that same number was 24%.
They said it:
Carlos Abrams-Rivera on North American Private Label Competition
We do see the continued share improvements as we continue to go forward. I mean in Q4, you saw that mix adjusted share actually improved by 20 basis points. And when you look at the market share that is non-mix adjusted, in December, it actually was flat.

And what we're seeing is that the bet that we're making in terms of continuing to invest in our businesses in terms of renovating our key products, making sure we're invest in innovation, make sure we invest in our marketing, that actually is paying us. So when you see that in terms of those particular platforms and brands that we want to continue to drive our growth are, in fact, driving the share improvements as well, whether that is in places like Lunchables, in places like Kraft Cheese, in places like Heinz Ketchup, Mac & Cheese, all those are going to drive actually positive shares as you look at Q4.

So for us is, how do we continue to make sure we've built on those at the same time that we are also making sure we have the potential, still some supply chain constraints that we have in a couple of categories. So for us, it's making sure that as we are driving the investments that we're making in the brands, that those are, in fact, are already transferring into share improvements and now making sure that we are continuing to support the brands that are still a little bit challenged in terms of supply chain so that we can, in fact, unleash the continued growth of our retail environment.