Discover more from The Slotting Fee
Americans spend $5.5 trillion a year at retail stores, but the story behind what's on store shelves is hardly ever told. The Slotting Fee covers the business, politics, and technology behind the things we buy every day.
Campbell's management signals that promotions can help maintain their soup monopoly
After maintaining margins throughout COVID, Campbell Soup Co. plans to increase promotional spending to ward off private label competition.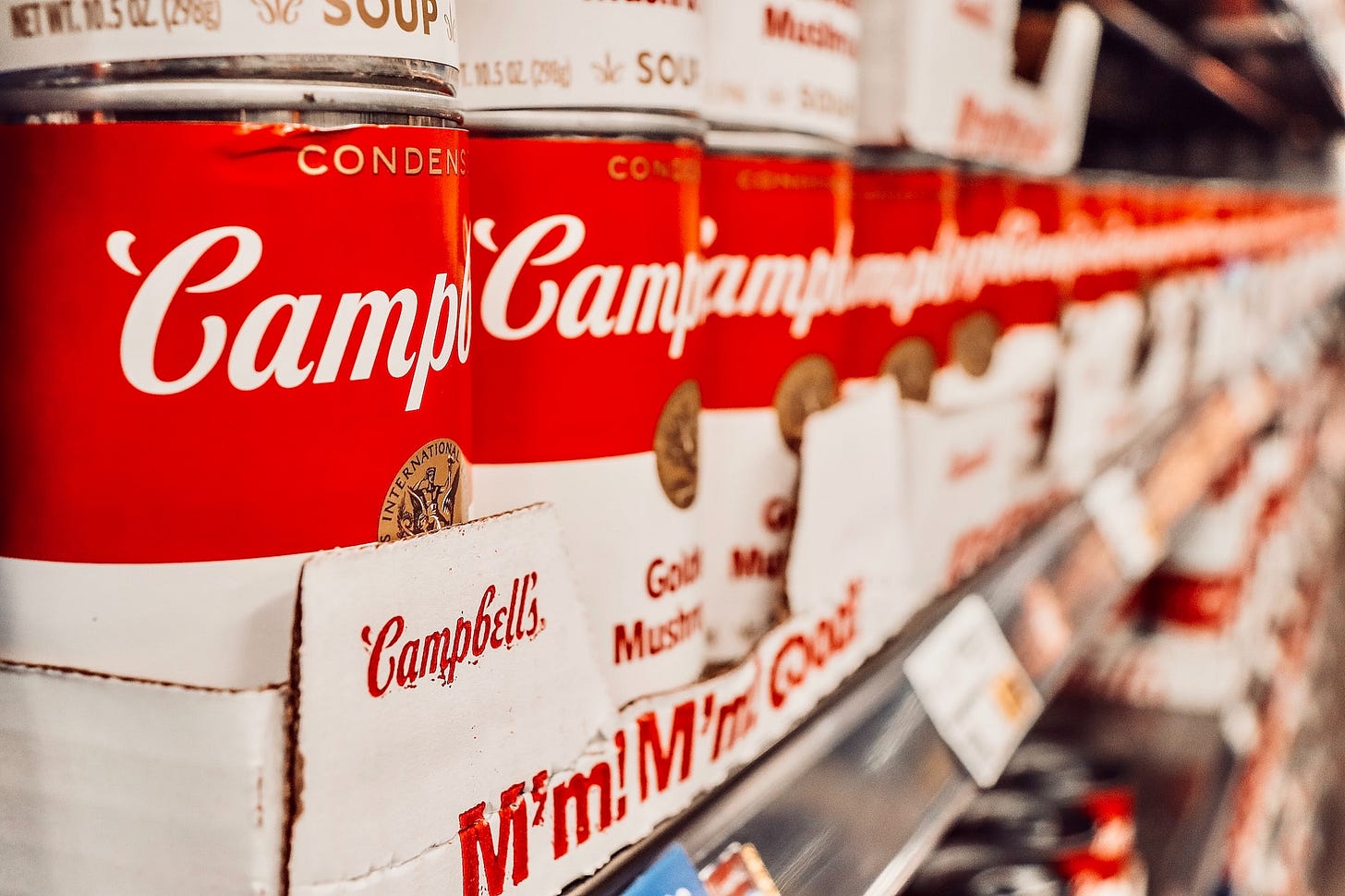 Campbell Soup Co.'s margins stayed relatively stagnant as unit sales continued to decline, while high prices ensured the company posted a topline revenue of $2 billion for the quarter.
Treading water in a difficult environment suggests that management and labor at Campbell's are doing a solid job.
The New Jersey-based manufacturer of Campbell's Chunky Soup and Goldfish crackers faces rising input costs, which it mostly passes on to consumers. Gross margin, which measures profitability after accounting for production costs, skyrocketed earlier in the pandemic but came in at 29% for 4Q of fiscal 2022--a decline of 8% from the same quarter last year.
EBIT, a non-GAPP metric, measures profitability before earnings and taxes. In the last three months, Campbell's EBIT inched downward from 13.7% to 13.5%. Management said it was primarily due to increased promotional spending.
Like many food manufacturers, Campbell Soup's management scaled back promotional investment during COVID-19. Promotions are an easy way to spike incremental volume of consumer goods. A combination of unprecedented demand and labor and raw material shortages meant that Campbell could not keep up production. Now that it has returned, they'll start investing again. "Our improvement in supply chain execution enabled us to invest in our brands through promotional activity in the fourth quarter," CEO Mark Clouse said. "We were encouraged to see that our increased support helped drive positive results."
The Campbell Soup Co. is trying to maintain a monopoly in soup
Based on data provided by Campbell's, with over 50% of all sales, the company dominates the soup market. The numbers are even starker within the condensed category. For every $100 spent on condensed soup at grocery stores, Campbell's captures $83.
Despite its dominance, the company is losing market share. The category itself is growing at 12%, while Campbells is showing growth of about 8%. Most of that growth is happening at private label companies. Faced with stretched budgets, consumers are switching to cheaper store brand options.
Here's what Clouse had to say about it:
So private label in our soup business really is prevalent in 2 places. It's the condensed business and it's the broth business. And those are the 2 places where we recognize we're -- we've got to be very, very on top of price gaps and the overall value proposition.

I think the one piece of context that I'll just give to you that I do think is important, and I mentioned it in my comments, in a condensed world where we're 80% of the category, and the category is up double digits, that is a good thing for us overall. Although, again, I'm never happy nor satisfied with any share loss at all, I do think the overall strength of the segment has been very positive.
💡
When management talks about "price gaps," they're referring to price differences between competing brands. Since pricing is fairly fluid, these differences are mostly managed through promotional spending (coupons, etc.)
He then talked a bit about how the company plans on defending itself.
I think further to that; we've tried to really carve out the parts of the condensed business that we want to make sure that we're defending in a more perhaps vigorous way. And that's -- we describe it as our icons, but that's essentially chicken noodle, tomato, cream of mushroom, cream of chicken. These are the kind of juggernauts of condensed. And when we look at those head-to-head versus private label, we're actually winning on share expansion and growth.
Clouse describes the company's strategy to fend off competition in broth:
I think broth, as I've always said, it's kind of the toughest because arguably, it is the most commoditized segment of the soup business. But I will say, I feel the best about our offerings that we've ever had as we roll into '23. We've got a quality improvement that now tests superior to private label. We've also got packaging constructs that are unique to us that will bring value and convenience.
Basically, for condensed soup, the company will increase trade spending. This will close the price gaps and defend their "icon" brands against the cheaper competition. With broth, it reformulated its recipe (probably made it cheaper to manufacture) and will offer new pack sizes that can charge premium prices.