Discover more from The Slotting Fee
Americans spend $5.5 trillion a year at retail stores, but the story behind what's on store shelves is hardly ever told. The Slotting Fee covers the business, politics, and technology behind the things we buy every day.
Clorox earnings call reveals a targeted approach to international growth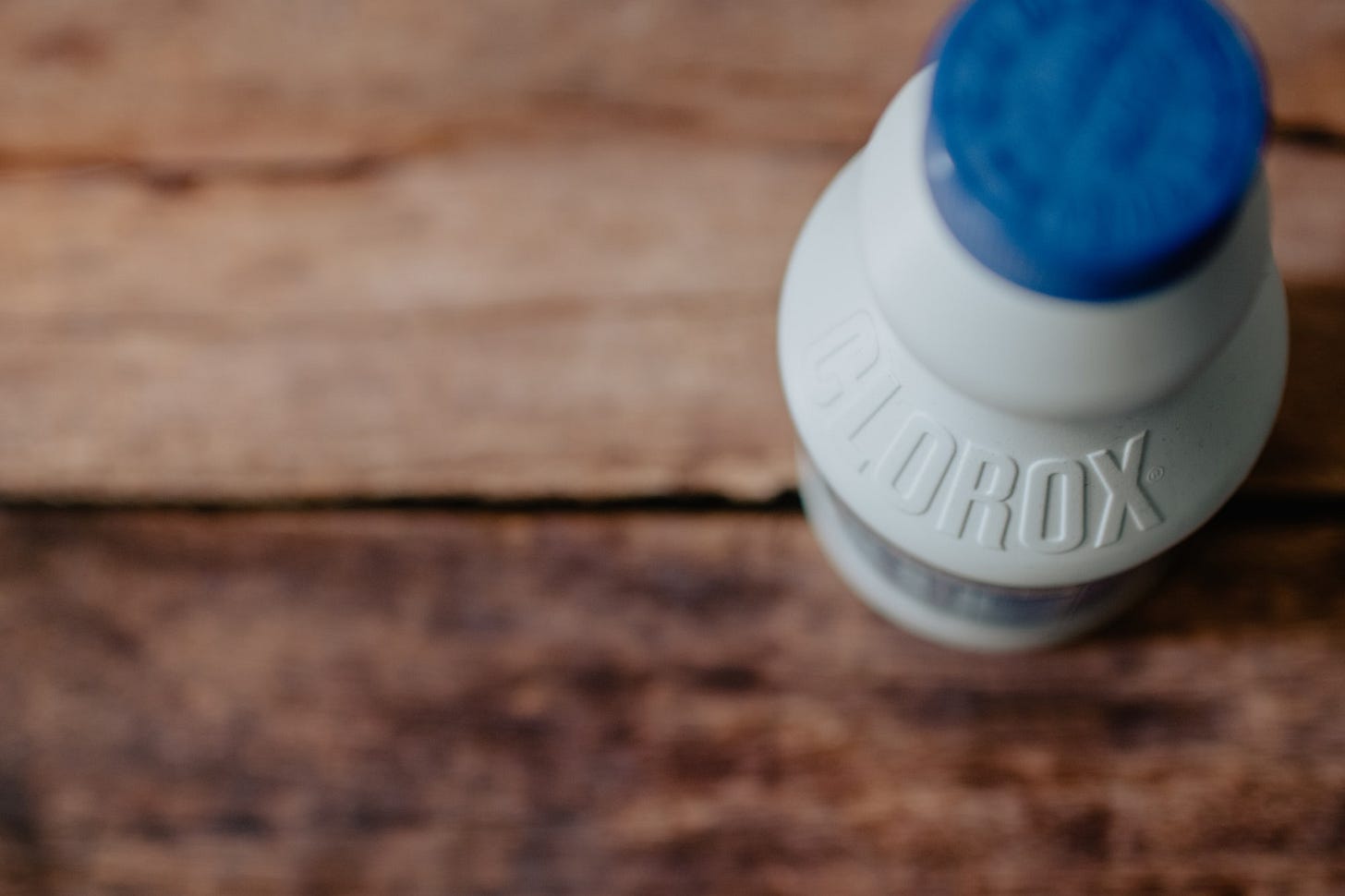 The Q2 2021 Clorox earnings call revealed more good news for the Oakland based consumer packaged goods company. Overall, organic sales increased by 26%, fueled primarily by 42% growth in the company's health and wellness division, which includes the namesake cleaning brand.  "We're continuing to see increases in household penetration and repeat rates among existing and new users," Lisah Burhan, VP of Investor Relations told the group. According to Clorox, COVID and strategic investments were the primary drivers.
Clorox is a deceptively big company with a smart strategy. The company boasts annual revenues of over $6 billion, which puts them between Church and Dwight and Swedish giant Essity. However, it competes in smaller categories—meaning it doesn't have a whole lot of head on competition and can focus on delivering value through innovation. For example, it its Food Products portfolio contains one major brand, Hidden Valley. Hidden Valley is the clear number one salad dressing in America, but it's a category that isn't particularly valuable.
According to IBISWorld, the US Salad Dressing market is about $3.3 billion. By comparison, the ice cream market is about $8 billion, and the overall seasoning, sauce, and condiment market is around $23 billion. The result is a big, advanced fish, competing in smaller ponds.
Now obviously, COVID benefited the company, but its plans for expansion are what I found interesting.
Clorox earnings reveal a targeted international expansion plan
Clorox is organized into 4 operating segments: Health & Wellness, Household, Life Style, and International. International is the smallest segment, but it's also arguably the largest growth opportunity.
This is common for many CPG companies. Most only start targeting international expansion once they've saturated the home market. The reason for this are obvious, but perhaps the most important is that international expansion really hard to do. Today, more than half of P&G's $71 billion in revenue comes from abroad, but it wasn't always that way.
Here's how Alecia Swasy described P&G's foray into international markets in her book Soap Opera.
P&G's international business took decades to develop. Its first venture outside the States was a plant in Canada in 1915 and the purchase of a small English soap company in 1930. Five years later P&G bought a company in the Philippines, a source of raw materials for its oil business. After World War II it moved into Mexico, Venezuela, France, and Belgium, among other countries.
Despite spending millions, international expansion wasn't viewed as a priority inside the company. Here she describes future CEO Ed Artzt's view when he was asked to oversee the company's European operations.
Those who worked with him recall that he had mixed feelings about the assignment. International posts were the equivalent of getting sent to Siberia. "He wasn't sure he wanted international," Bart Cummings said. "It was out of the mainstream." But Artzt said he took the job willingly because he knew that the company's long-term growth would come from distant shores.
Part of the management difficulty was political. At that time there was a high amount of regulation around import/exports within Europe. Every country was basically post-Brexit UK. The other part was the technological and business process. They were attempting to stand up new brands without a ton of data on what local consumers did and did not want. That data would feed a supply and sales chain. If it wasn't correct the money was wasted.
Today, with the benefit of e-commerce, Clorox is going a different direction.
Clorox CEO Linda Rendle explained:
And then as we think about more broadly, the avenues that we have to introduce our brands to consumers have expanded. E-com is now a way that you can enter into a market, learn more about the consumer in a low-cost way. That allows us to get early insights and decide if we want to build more of an infrastructure behind an International business to expand.
Basically, instead of setting up an entire sales, marketing, and supply apparatus, Clorox is going to selectively piggyback off an existing e-commerce platform and build a case to move into brick-and-mortar. Once they identify the winners, they'll build up a network and sell them in.