Discover more from The Slotting Fee
Americans spend $5.5 trillion a year at retail stores, but the story behind what's on store shelves is hardly ever told. The Slotting Fee covers the business, politics, and technology behind the things we buy every day.
Did the FTC just signal the End of Trade Promotion?
A new FTC Commissioner announced he would like to start enforcing the Robinson Patman-Act. Plus, major retailers are investing huge amounts, and some big e-commerce acquisitions.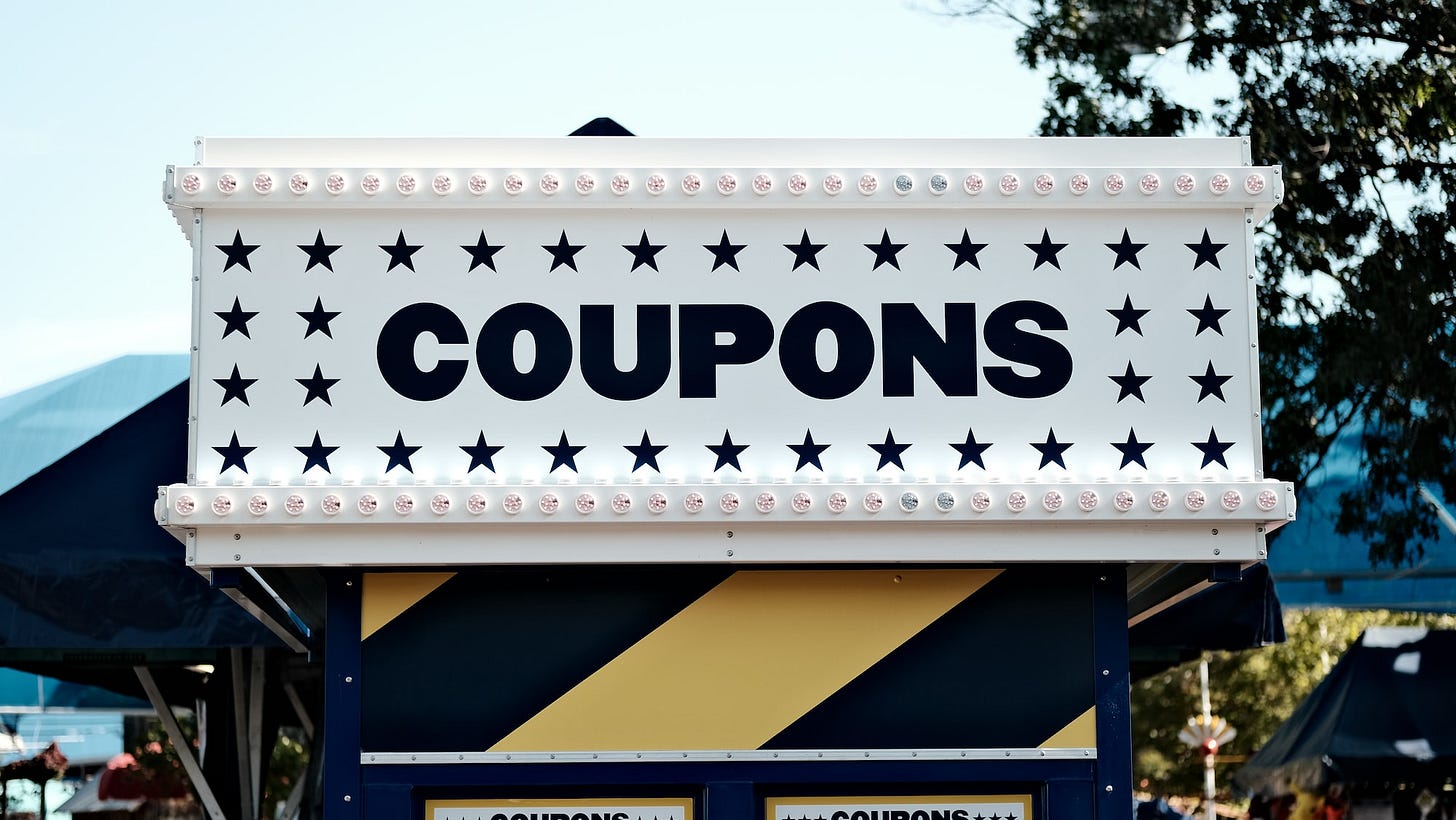 The Return of Robinson-Patman
In a speech at the Midwest Forum on Fair Markets, the Federal Trade Commission signaled that they're interested in reviving the Robinson-Patman act, the New Deal era law meant to insert fairness into the retail world by banning price discounts through market power. The government quit enforcing the law in the late 1970s, which saw chain retail stores spread throughout the nation. This is probably the biggest news to hit the consumer goods world in a while, but I haven't seen any major media organizations cover the implications. It's somewhat odd; although I assume, the silence is because no one is really sure how regulation will look.

The Harvard Business Review published a fantastic primer on Robinson-Patman. The article, written by Brian Callaci and Sandeep Vaheesan of the Open Markets Institute, explains the laws' origins, intent, and implications.

Over at More Perfect Union, I wrote a few thoughts about the announcement, mostly trying to walk through where trade funding turns into a grey area.
Investing through a downturn
Retailers use windfall profits generated in the COVID-19 era to make massive capital investments across their portfolios. Walmart is investing heavily in streamlining in-store operations to reduce stockouts, while Target is spending $5 billion on store builds and improvements. Home Depot, fresh off the most sales in company history, is pouring millions into revamping its supply chain. Meanwhile, everyone is investing in software—it's up 123% across the retail industry.

Retailers aren't the only one's flush with COVID-19 cash. Manufacturers are making major investments in their businesses. Last month I looked at the petfood industry, this month, General Mills announced it would spend $100m on a pizza roll factory.
Things I wrote this month
Money losing e-commerce firms make some acquisitions
Misfits Market and Imperfect Foods have the same general value proposition. Both market themselves under the guise of social commerce, claiming that they sell perfectly fine "ugly" foods to consumers. If it weren't for them, hundreds of millions of otherwise edible foods would end up with "lesser outcomes." This premise is debatable, as most "ugly" produce ends up purchased by food processors, who couldn't care less what the tomato looks like before it becomes salsa (the biggest culprit of food waste is spoilage—driven primarily by a lack of labor). Either way, it seemed unlikely that there was enough room in the produce delivery space to support two businesses—and now we'll never find out—since Misfits acquired Imperfect in an all-stock deal. If should probably come as no surprise that neither is profitable yet.

Primarily driven by the pandemic, which scared rich people away from grocery stores, Instacart grew to tremendous heights. That was until April of 2022 when the company came tumbling back to reality. Facing stagnant demand and being unable to generate profit under generally accepted accounting standards, the grocery delivery company slashed its valuation to $24 billion—a decline of 40%. This month it announced it acquired Eversight, a promotion planning platform. Honestly, this deal makes perfect sense for Instacart. It has a large and mostly unprofitable delivery network that people do use, and now it's layering an advertising platform that can generate mega-margins on top of it.
Bank of Walmart
Walmart, America's biggest retailer, is entering into banking. The Arkansas-based company tapped the former head of Goldman Sachs' consumer bank to run One--an independent fintech startup it founded. The company's ambitions are vast and vague. Right now, it's just offering bank accounts to its 1.6 million employees. Insiders claim it will become a one-stop shop for consumers' financial needs—which would include personal checking and loans. I believe it's worth noting that Walmart Corporate's current CFO is John David Rainey—who previously held the same post at financial technology company PayPal. It's hard to see this passing regulatory muster—given the Biden Administration's focus on stopping concentrations of power
Your Monthly Amazon Round-Up
In 2017 Amazon announced it would purchase Whole Foods. The announcement sent the market capitalization of major grocers to the gutter. Coming up on five years, the merger has not upended the grocery industry. Rather, it's turned into an albatross around Amazon. Management spent $13.7 billion to realize there wasn't much tactical overlap between "e-commerce logistics and cloud computing and a grocery store chain catering to people who wanted to choose from several colors of cauliflower."

Amazon built a vertically integrated transportation network in over a decade. Amazon skirted costs and responsibility by almost exclusively relying on private contractors. Commentators reacted in awe as the company that took over e-commerce suddenly set its sights on logistics. A Wall Street Journal investigation revealed that a company that requires workers to pee in bottles to meet quotas might have cut massive corners around safety. According to their analysis 39% of Amazon's frequent driver/contractors received unsafe driving scores from the DOT. "Trucking companies hauling freight for Amazon," it found, "have been involved in crashes that killed more than 75 people since 2015, according to the Journal's review."
Quality and Marketing in Baby Formula
Great profile on two start-up baby formula brands who entered the formula industry just as shortage took over the nation. The tension between branding and reality is super interesting. Bobbie, a "premium" direct-to-consumer brand, tried to differentiate itself on quality, and inadvertently ends up making prospective customers feel bad about themselves. "Are we creating second-class nutrition citizens," a critic asked.

The Washington Post takes a deep dive into how the government failed to keep baby formula safe.
Odds and Ends
Fred Franzia, co-founder of Bronco Wine Company, who brought cheap wine to the masses under Two Buck Chuck, has died.

Two years after Kraft-Heinz sold its premium cheese business to Lactails, the company announced it was selling its powered cheese business.