Discover more from The Slotting Fee
Americans spend $5.5 trillion a year at retail stores, but the story behind what's on store shelves is hardly ever told. The Slotting Fee covers the business, politics, and technology behind the things we buy every day.
High prices and Goldfish growth have Campbell Soup's sales forecast looking up.
Campbell Soup, the maker of Goldfish crackers and Kettle Chips reported a 12% increase in sales and raised its outlook as the company faces an improved supply-chain.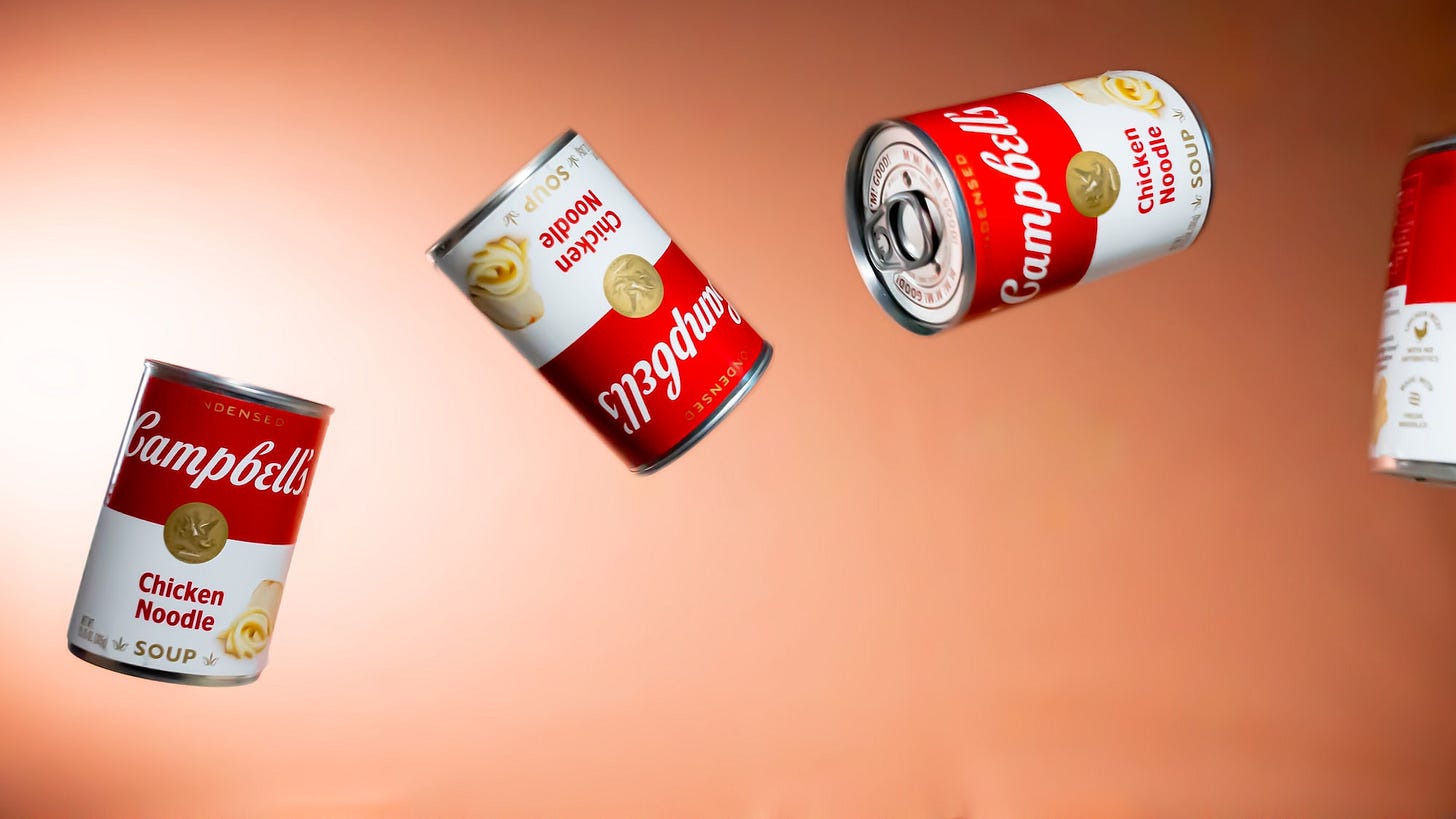 Campbell Soup Co. raised its annual outlook after turning higher prices into double-digit sales growth. The company predicts that consumers will continue to buy its assortment of soups, broths, and snacks as they tighten budgets and reduce spending in other categories.
For the quarter, the New Jersey-based packaged food giant reported sales of $2.49 billion, a 12% increase that surpassed expectations. Management attributed the growth to a 14% price increase, offset by a 2% volume decline.
That's now eight straight quarters where Campbell's has sold less than the previous year. Throughout the COVID-19 pandemic, supply chain shortages have presented significant challenges for Campbell Soup Co.
In particular, the company struggled with material availability, with the greatest concentration of shortages affecting their sauces business and products requiring aluminum cans (basically all of soup). "There were places where we were struggling a year ago on certain parts of the business and market share primarily as it related to supply chain," Clouse said.
Campbell's couldn't offset volume declines with marketing or promotions because it could produce the needed product quantities. Now, he believes the company has a "tailwind."
Campbell's Snack Division Grows Up.
Strong brands like Cape Cod, Kettle, and Goldfish helped snack revenue reach $1 billion, an increase of 15% from the previous year.

Margins grew, largely due to productivity and cost savings. Pricing helped cover inflation; management belives cost-saving measures were the primary drivers of margin growth.

Goldfish grew 22% in the quarter, over 30% in the last three years, and nearly reached a $1 billion brand status through a strategy of limited-time offer flavors generating significant buzz.
Increasing Their Marketing Budget.
Now that the supply chain issues are sorted out, management is increasing marketing spend to combat volume decline.

The company's marketing and selling expenses grew by 10% or $20 million compared to the previous year, driven primarily by a 17% increase in advertising and promotion expenses. It now represents approximately 8.7% of net sales.

Soup declined by .4%, and executives are turning to premiumization. For the quarter, the Chunky rand was up 8%. "That is absolutely paramount to our strategy of really winning that lunchtime occasion with a superior product that Chunky is living into and doing it among younger consumers," Clouse concluded.
They Said It.
CEO Mark Clouse on the company increasing sales guidance to 10%.
I feel great about where we are. I don't think there's anything that is radically different in the back half that we're adjusting spending to address. But I think in the current moment we're in, it's pragmatic to really try to manage this algorithm I talked about in my prepared remarks of making sure that the growth in demand is balanced with managing the margin.

Again, let me be clear, this is not about chasing volume or chasing share in a nonprofitable way, but it is about making sure that we're managing this business to remain healthy and sustain the performance going forward. And that means making sure that we get the right levels of investment in place. So nothing dramatically different, but arguably a little bit of favorability and timing in the second quarter that would move -- that would, in theory, move into the back half.

But the underlying fundamentals on the business and the structure of the business, very much in line with what we expected, arguably, a little better with a little more pension. But at the end of the day, we really feel terrific about where we are. This is kind of exactly where we would hope to be relative to how we're watching in market performance move.