Discover more from The Slotting Fee
Americans spend $5.5 trillion a year at retail stores, but the story behind what's on store shelves is hardly ever told. The Slotting Fee covers the business, politics, and technology behind the things we buy every day.
Inside PepsiCo's Winning Strategy with Frito-Lay
Price increases have driven nearly all of Frito-Lay's growth, but innovation has played a significant role.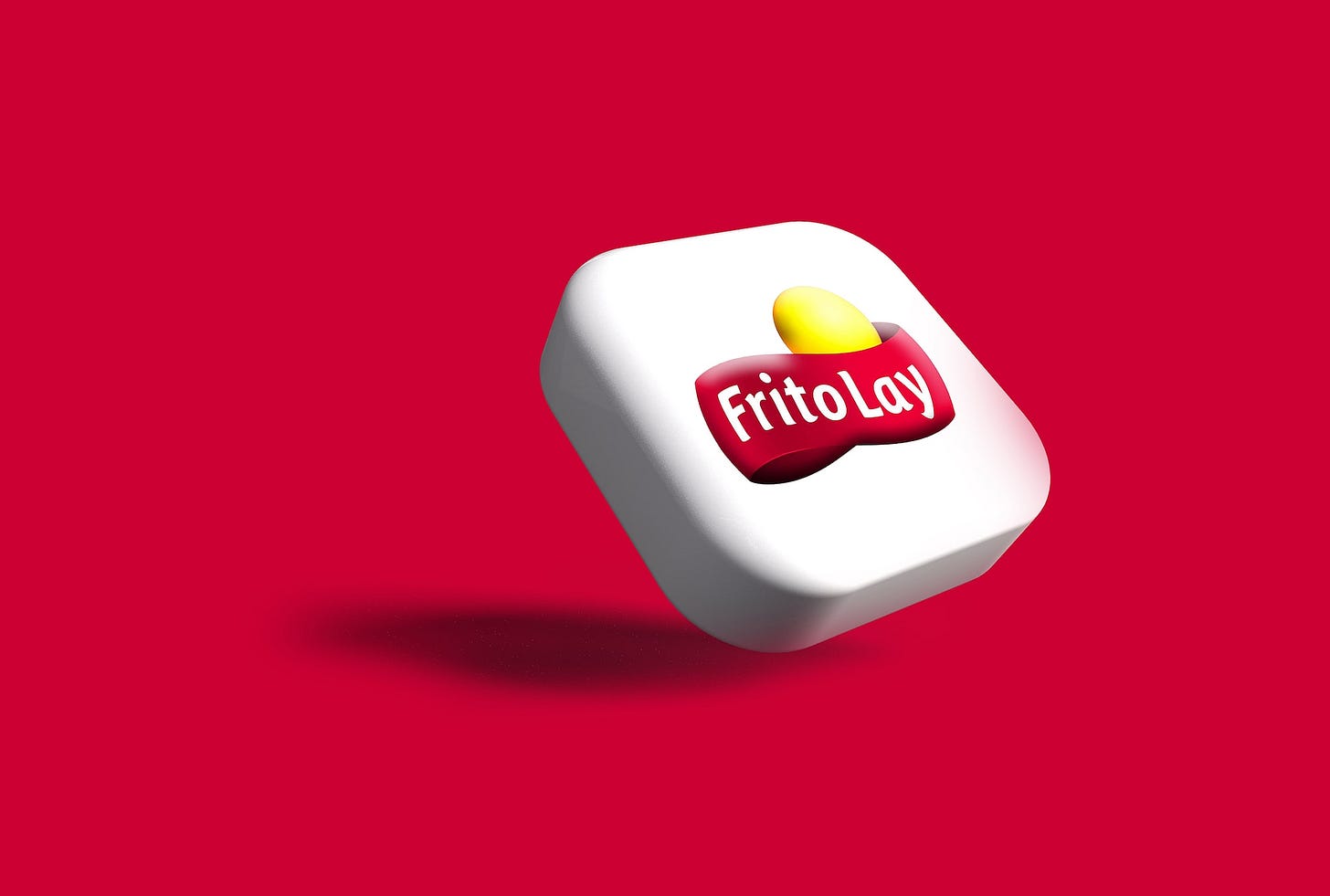 PepsiCo is putting on a business clinic with its Frito-Lay division. The Frito-Lay strategy focuses on large brands such as Lays, Doritos, Raffles, Tostitos, and Cheetos while developing peripheral brands to cover needs on the edges. For Q1 of 2023, division revenue reached $5.5 billion, an increase of 15% from the previous year. Of course, price increases have driven nearly all of the growth, but we can't discount the impact of innovation.
Management embraced new formats, such as multipacks and Mini. This gave new options for consumers facing higher prices, who were willing to pay a bit more to indulge.
The future here is brighter than ever. With improved supply and labor availability, PepsiCo expects operational metrics to improve, which will further increase margins and be used to fund additional marketing. "Frito Lay is growing its market share at the fastest pace that we've seen in the last ten years," CEO Ramon Laguarta told investors. That message is somewhat scary, as the company controls 60% of the US chip market.
PepsiCo had a tremendous start to the year.
PepsiCo posted revenues of 17.8 billion, an increase of 10.2%. Stripping out currency and M&A, the company posted 14.3% revenue growth.

Frito Lay Operating Profit Increased by 23%, and Quaker Foods increased by 18%.

With a 15% price increase last quarter, the company has already taken the necessary pricing to cover cost increases, and with the deceleration of inflation, they believe it should be sufficient.
Beverage volumes were down…but there's an explanation.
PepsiCo sees strong demand momentum in the beverage category, with away-from-home and convenience channels performing well.

The 2% volume decline was attributed to the company's decision to transition to a direct-store-delivery operating model.
Management is confident in the next five years.
PepsiCo management believes their categories are large and growing globally at a fast pace of around 5%. Their main focus is maintaining innovation and evolving the portfolio with consumers to keep the brands relevant.

They are making small moves like going into low alcohol and expanding some brands into new spaces (Cheetos mac and cheese).

The transition to low-sugar drinks is going well—with Pepsi Zero sugar growing at 60%.
They said it:
Pepsi Co CEO Ramon Laguarta on margin expansion
We're seeing both better elasticities than some of the worst-case scenarios we were planning for. And also, we're seeing the teams delivering better productivity. So we're seeing the in general, the flow of materials, the availability of labor, transportation, all those elements that were making us a suboptimal company if you just to call it somehow in terms of operating metrics. That's getting better, which is giving us the opportunity to improve some of the metrics in our operations faster than what we thought.

So it's both an improvement in productivity on the cost side and better elasticity. I think the commercial programs were strong. You saw that we've increased A&M again in the first quarter. And I think the commercial plan, the innovation plans are very strong. So we feel comfortable that even -- and we always play out a lot of scenarios before we give a -- give you guys a guidance, we feel comfortable that even at this early point in the year, we can raise our top line and bottom line estimates.