Discover more from The Slotting Fee
Americans spend $5.5 trillion a year at retail stores, but the story behind what's on store shelves is hardly ever told. The Slotting Fee covers the business, politics, and technology behind the things we buy every day.
Kraft Heinz's Innovative Revenue Growth Management Approach
Kraft Heinz's revenue growth management approach involves in-house tools that offer real-time insights and recommendations for effective promotions, resulting in a 10-point ROI improvement in Q1 2023.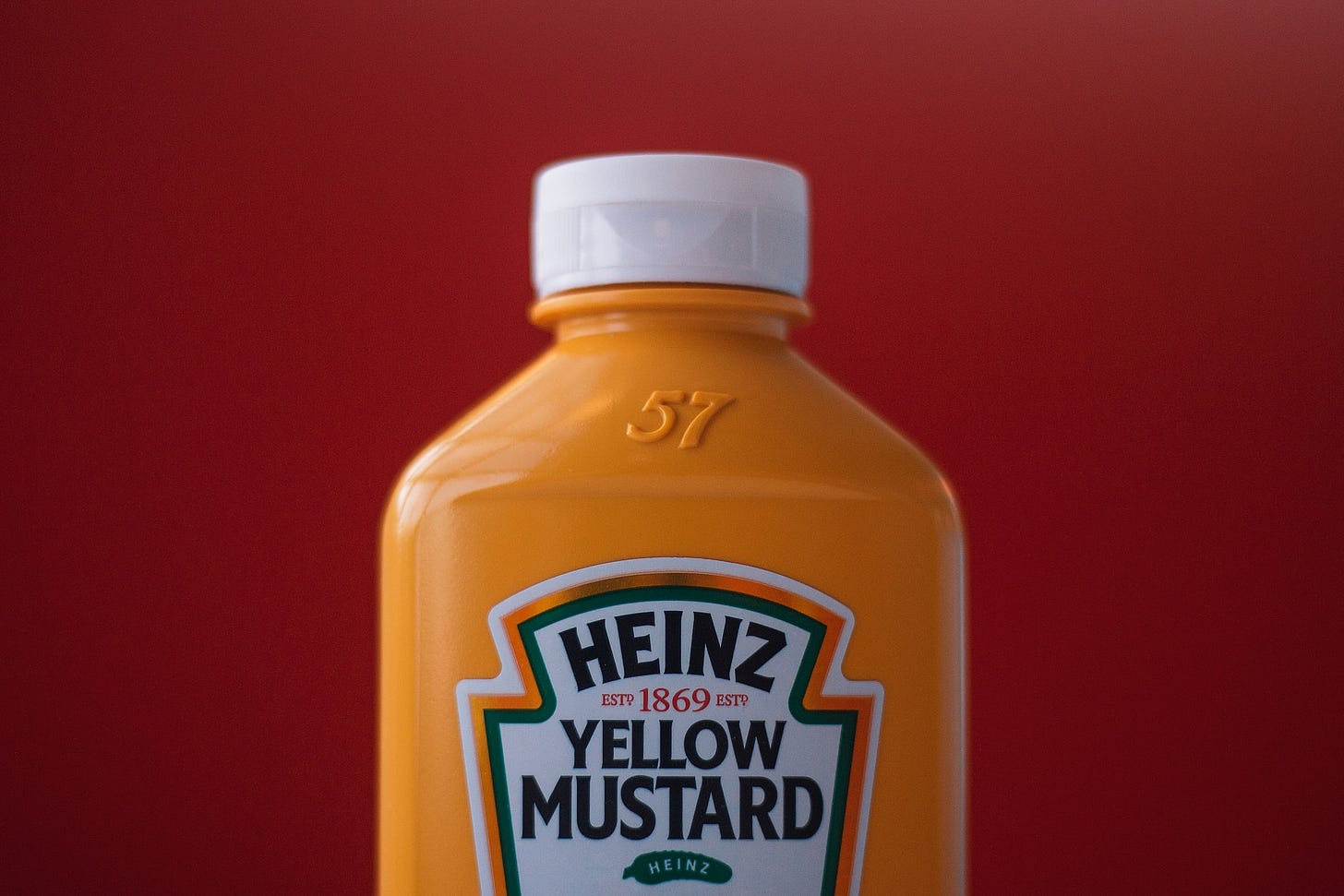 Kraft Heinz is one of the most innovative players in the industry regarding revenue growth management. I can say from personal experience that it's the type of place that advanced companies refer to as "advanced." That reputation is thanks to its 50 dedicated employees that manage everything from the company's promotions, pricing, and price pack architecture. Combined, the team has turned promotional strategy into a dark-art, turning it from a responsibility to a growth engine.
In the Q1 2023 earnings call, Kraft Heinz's management talked about their revenue growth management approach:
Kraft Heinz's approach to revenue growth management
Kraft Heinz has its own revenue management tools that provide real-time insights and recommendations, allowing the company to create the right depth of discount and promotional touches.

The trade management system, created in-house, gives Kraft Heinz access to over 10,000 promotional events, enabling it to improve the returns of its promotions.

In Q1 2023, the company saw about a 10-point improvement in ROI, with a 15-point improvement compared to the Q1 of 2019.

The company is focused on renovating its business, driving a stronger quality with event-based activities that have a high ROI.

Kraft Heinz is also increasing its investments in marketing and R&D by $100 million to $150 million versus budget, representing a solid double-digit growth versus the previous year.
Consumers escape high prices by trading down channels
The channel migration trend began last year and has been consistently observed for several months now.

Low-income shoppers migrate to dollar stores, while high-income shoppers switch from specialty grocers to mass.

Kraft Heinz has been prepared for this channel migration trend and is adapting accordingly, specifically creating new SKUs for the dollar channel.
Q1 2023 results
Net sales increased by 7.3 percent versus the year-ago period to $6.5 billion.

Organic Net Sales increased by 9.4 percent versus the prior year period.

Net income increased by 7.1%.

Gross profit margin increased 62 basis points to 32.6%.

Adjusted Gross Profit Margin increased 126 basis points to 32.8%.

North America saw a 13.2% price increase along with a 6.5% decline in volume.

The company is raising 2023 Constant Currency Adjusted EBITDA guidance to growth of 4 to 6 percent versus 2022 or 6 to 8 percent when excluding the impact from lapping the 53rd week in 2022.
Additional Information
Kraft Heinz has raised the bar for its gross savings to $500 million per year.

The company will continue to grow through emerging markets, service globally, and priority growth platforms in the U.S.

The company is rebalancing its portfolio to focus on these priority growth platforms.
They Said It:
CEO Miguel Patricio on the company's performance:
We have been consistently saying that we'll grow through emerging markets, and we grew 23% this quarter. We'll grow throughput service globally, and we grew about 29% this quarter, and we'll grow through our priority growth platforms in U.S., Easy Meals and Taste Elevation where we had double-digit growth. The rest of the portfolio has to free up resources to invest in our strategy. These results are possible not only because of our strategy, but because of everything that is behind our strategy.

Let me start with people. Today, we have a great team and very engaged team. Speed. Well, agility is a big word for us. And the products that we have in place are transforming the company. In innovation, in supply, manufacturing, procurement, in sales, in logistics. And 2 good examples of that is innovation, where we have now a much stronger pipeline for the future. And we reduced the time of innovating from 2 years to a couple of months, or in supply that through the pods plus the partnership with Microsoft and the usage of artificial intelligence, we are improving our planning, our service levels, reducing waste, reducing times. We are in a very different place today.