Discover more from The Slotting Fee
Americans spend $5.5 trillion a year at retail stores, but the story behind what's on store shelves is hardly ever told. The Slotting Fee covers the business, politics, and technology behind the things we buy every day.
The reinforcement strategy. Or how digital investments created a profit generating giant at Walmart.
Walmart built profitable digital marketplace, fulfillment and advertising operations on top of its traditional retail empire.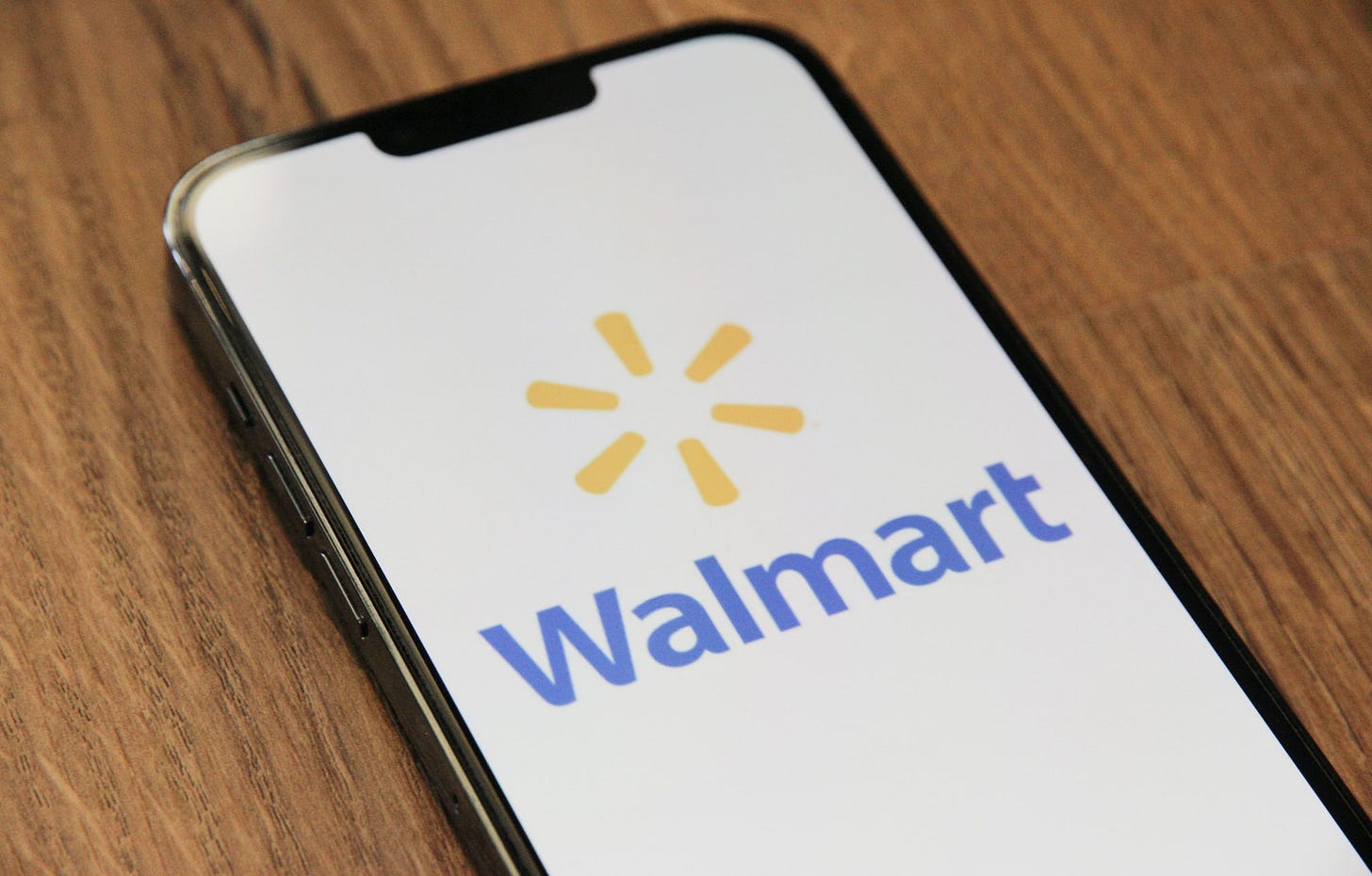 Walmart continues to expand and evolve its business model by scaling a series of mutually reinforcing businesses such as marketplace, fulfillment services, and advertising. Each of these could fail on its own (although probably not advertising), but combined, they give Walmart a high-margin digital business on top of its traditional retail operations.
Arkansas-based retailer, whose entire mantra since its founding was to offer the lowest price possible, doesn't plan on reinvesting the profits from these businesses into lower consumer prices. "We feel like our price gaps are in a good spot," CEO Doug McMillion told investors, with product mix impacting margins. "We're starting to see some of those numbers grow with advertising income."
It's a good bet that these initiatives will keep growing.
Marketplace is the linchpin of the reinforcement strategy. It allows the company to sell third-party merchandise as well as first-party products. Walmart's marketplace now has over 400 million SKUs, and a significant portion use the company's fulfillment services.
The set-up offers more selection to consumers while pushing the inventory cost and liability to third party sellers. Instead of fulfillment being a cost, it's now a profit center for the company. The marketplace attracts more eyeballs to Walmart's website, making advertisers want to spend more money on the platform.
Walmart Connect, the company's advertising business, is the crown jewel of this evolution. Unlike fulfillment, which carries a fair amount of actual cost, advertising is a profit machine. Most analysts estimate the profit margins near 80%. The organization has grown to $2.7 billion, which is nearly $2.5 billion of free money.
It's easy to look at these developments and discount Walmart's traditional business operations. After all, retail is probably the second oldest profession in the world. But the company can layer these digital investments in a way other retailers can only dream of.
Walmart is using existing stores as fulfillment centers. They are just one retailer to do this. Target pioneered the practice. But Walmart is the first one to do it at this scale. Walmart has inventory within 10 miles and 90% of the population and now partners with Salesforce to offer local fulfillment options for small and medium-sized businesses.
Sometimes boring is good. In Walmart's case, it means money.
Walmart had another strong year.
Walmart's total revenue reached $164.0 billion, a 7.9% increase in constant currency.

Walmart's U.S. comparable sales grew 8.3%, and a 13.9% over two years.

eCommerce grew by 17%.
A change in product mix is tightening Walmart's margins.
Walmart's margins have tightened during the back end of the pandemic as consumers shifted towards grocery and health and wellness sales, which have lower margins than general merchandise.

Walmart executives downplayed any massive profitability switch. : There's a delta between all things, food, consumables," CEO Doug McMillion said, "But there are some really profitable businesses in fresh and other areas."
Walmart is still growing share with high income groups.
High-income growth accounted for over half of Walmart's share gains last quarter. The company hopes that its omnichannel capabilities will help it retain customers once inflation slows.

Manufacturers are offering less promotional spending or discounts, accelerating the shift towards private brands. Walmart noticed the change last March, which continued throughout the year, and intensified in the fourth quarter.
They said it:
John Furner, President and CEO of Walmart U.S., on the firm's tech investments and becoming an omnichannel retailer:
And it's a way that customers can access an interesting combination of all of our assets from our digital front end, which is become 1 experience over the last couple of years. the fact that we have inventory within 10 miles and 90% of the population is another way that this call comes together.

And the business model itself, and we've said this before, and I'll just repeat it, it's becoming more difficult to measure the differences in e-commerce and stores because stores are acting as fulfillment centers at times, their stores primarily and then there are fulfillment centers. So there are a lot of blurred lines between all these channels.

So having an offer that is great for consumers in terms of the behavior they're seeking, which is convenience, and not worrying about incremental delivery fees is working fantastically. Now it's also important to note that this tends to be a younger, more tech savvy consumer. -- which is great, in some cases, a higher income customer. So as we've said in the most recent quarters, we've gained share with higher income customers. Walmart+ with delivery and then these other businesses like advertising, fulfill services marketplace, all add up to a better proposition for both the customer and the company.