Discover more from The Slotting Fee
Americans spend $5.5 trillion a year at retail stores, but the story behind what's on store shelves is hardly ever told. The Slotting Fee covers the business, politics, and technology behind the things we buy every day.
Unlocking the Power of Personalization: Target's Membership-driven Promotions
Target leveraging its membership-driven program, Target Circle, to drive customized promotions.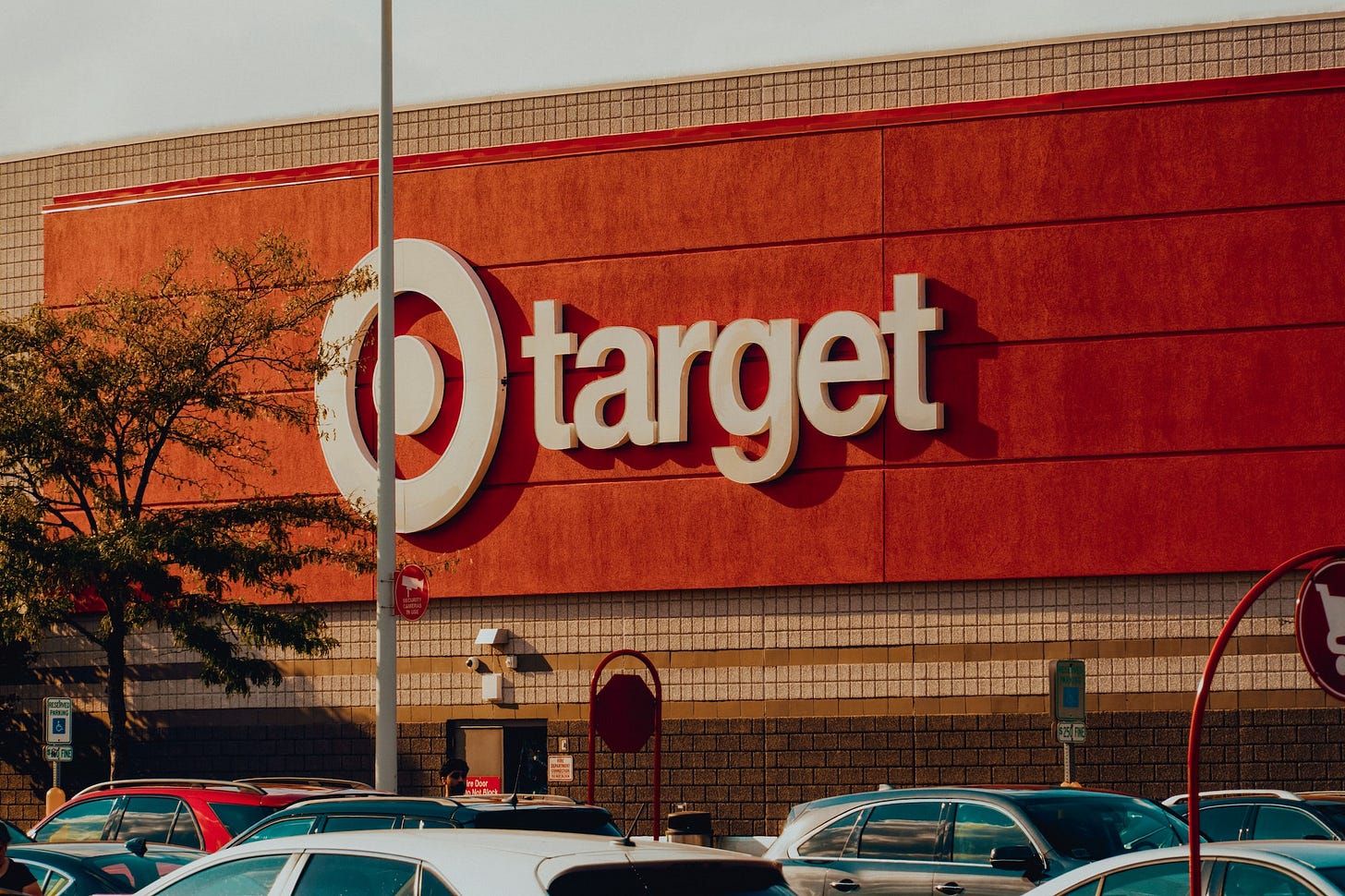 Target Corporation, America's seventh largest retailers by sales, reported its financial results for the first quarter of 2023. Although comparable store sales grew 0.7 percent, a decline in digital sales resulted in flat sales. The strength of frequency businesses such as beauty, food and beverage, and household essentials offset the continued softness in discretionary categories.
Gross profit margins increased slightly to 26.3% from 25.7% because of price increases and lower freight costs but were offset by higher shrink (theft/spoilage).
One of the key points of last week's call was how management is looking to drive sales through custom promotions.
Customized Promotions through Membership Offerings
Target Corporation is increasing promotional offerings, but they are being customized and driven through membership—rather than mass. "The position that we're in right now," the VP of Growth Christina Hennington told investors, "gives us the ability to compete with the market but not chase the market down."

Target Circle is the loyalty program that offers personalized promotions. The company says they see better ROI from personalized promotions than from mass promotions.
Retail Media Network Success
Target's retail media network, Roundel, is like every other retail media network in that it connects vendors and their products with guests, leveraging guest insights for targeted promotions.

The network's integration with Target's digital ecosystem enhances the guest experience and drives top-line and bottom-line benefits.

It also allows the company to promote its own brand portfolio.
Inventory Issues
The inventory at the end of Q1 was 16 percent lower than last year, reflecting a more than 25 percent reduction in discretionary categories.

Target has implemented automation and technology in distribution centers, improving sorting, inventory management, and store replenishment processes.

Investments in automated sortation and packing of break pack items reduce sorting time and inventory in-store backrooms.
Impact of Shrink on Results
Shrink, referring to losses from theft and spoilage, reduced Target's gross profit margins by 1 percentage point compared to the previous year.

The company expects shrink to reduce profitability by over $500 million for the full year, necessitating collaborative efforts within the industry to combat organized retail crime.

Target is actively engaging with legislators, law enforcement, and retail industry partners to advocate for policy changes to address this issue.
They said it:
Christina Hennington on Personalized Promotions and Retail Media Networks
With consumers more price conscious and focused on promotions right now, we know they're willing to search for a deal but appreciate when we make the hunt easy for them. By utilizing our rich guest insights, we are best able to match the right product to the right guests with the right promotion.
This is why we take such a differentiated approach with Roundel, thoughtfully and selectively connecting vendors and their products to our guests. Roundel's interconnection with the broader target digital ecosystem means we are uniquely positioned to inspire the millions of users of our website, the Target app and other diverse media platforms.
This helps vendors find consumers that are most likely to be interested in their products, creates awareness and conversion to new products for our guests through compelling deals and ads and drives top line and bottom line benefit to Target, all with an eye to enhancing the guest experience.